I can confidently say without hesitation that being a part of the Fityah program has been a life-changing experience for me and instilled within me a sense of Iman I never thought I could reach before . Having attended an Islamic school, I thought that I had a firm grasp on most of the fundamentals of our religion, such as the Fiqh of Salah, understanding the basic meaning of the Quran, and possessing a strong moral character when interacting with others.
However, after joining the Fityah program, led by Ustadh Baajour, Ustadh Michael, and Ustadh Belal, they gave me a rejuvenated understanding of each of these aspects by teaching us the reasonings behind certain aspects of our Deen and providing us a solid foundation in the Arabic language to allow us to not only learn but apply the teachings of the holy Quran and Sunnah in our daily lives.
I believe this program is a perfect opportunity for students of all ages and backgrounds, and I highly recommend it to anyone who can attend!
Zuhair Zaidi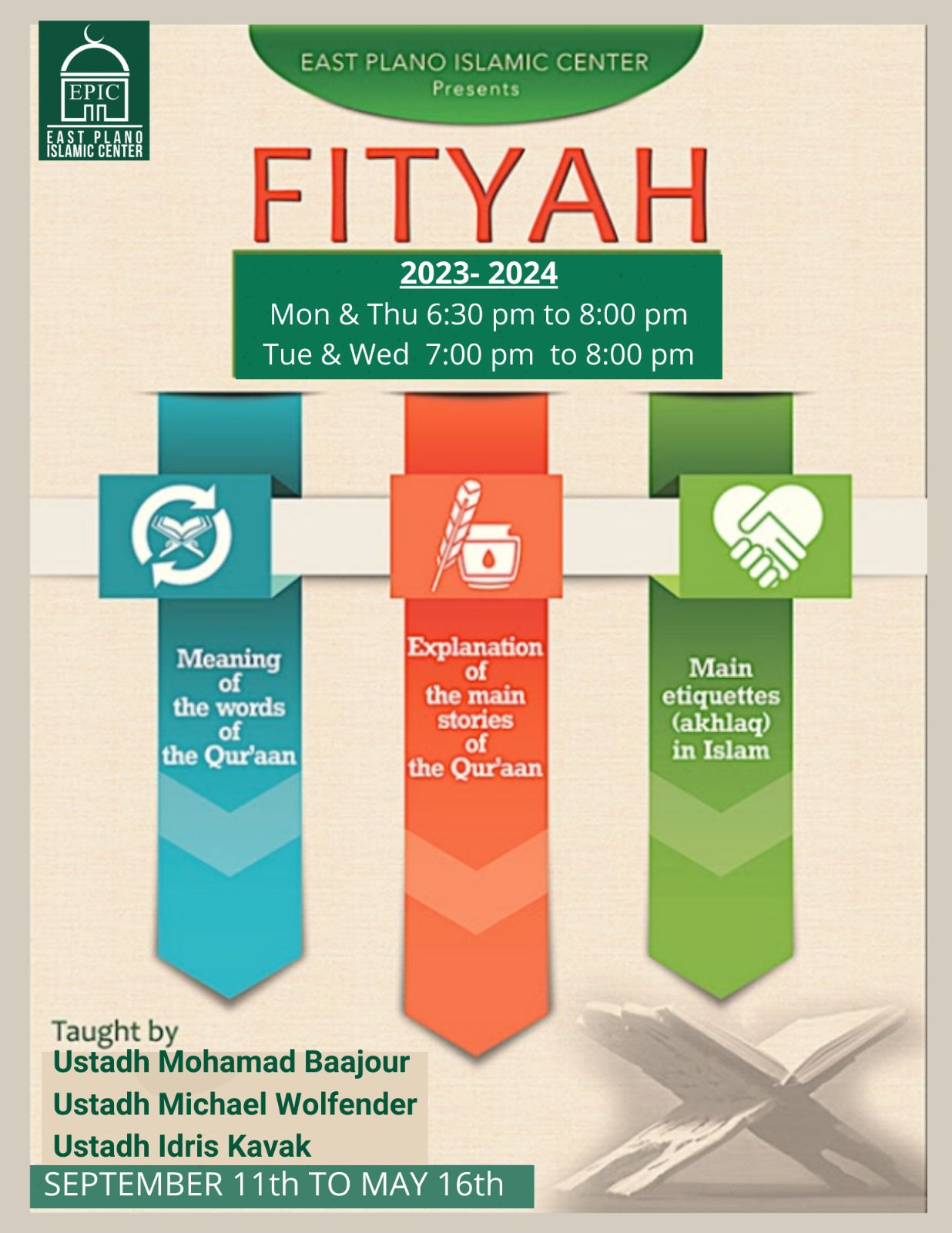 Fityah Program 2023 – 2024
Use this form to register online and securely pay for Fityah Program. Please note that all students attending the program should be above 12 years old. For more information please Email: epicschools@epicmasjid.org or Call: (214) 396-1943.
Program Information
The EPIC Fityah program is a unique program for ages 12 and above (Boys and Girls).
Throughout the program(one school year) students will:
Learn the Fundamentals of Nahw(Grammer)
Memorize and contextualize essential Quran Vocabulary
Apply Learnings to various Surahs of the Quran
Know the plot and the moral of the stories of the Quran
Learn the Islamic ethics regarding many matters (Parents, Teachers, Neighbors, etc.)
START DATE:
September 11, 2023
END DATE:
May 16, 2024
TIMINGS: 
Monday and Thrusday (Arabic) : 6:30 PM – 8:00 PM
Tuesday (Stories) : 7:00 PM – 8:00 PM
Wednesday (Akhlaq) : 7:00 PM – 8:00 PM
AGE :
12 years and older (Boys and Girls)
Material:
One time $50 CHARGE FOR BOOKS
Access to pre-recorded lessons for each surah